Aren't you out of your MIND yet?
It's Time To Live From Your HEART!
The SEARCHING FOR OZ workbook, written by authors Michael Cavallaro and Adele Saccarelli-Cavallaro, is a step-by-step guide to finding your Inner Voice and transforming your life from the Inside Out.
Throughout the workbook, we replace the word "healing" with "transformation" because healing implies that there is something broken that needs to be fixed.
You are not broken! 
The SEARCHING FOR OZ workbook is written in a heartfelt and inspiring way, intended for anyone who has experienced trauma or abuse, of any kind. Michael and Adele use their unique voices to help guide you through the transformation process with enlightening conversations, life-changing exercises, and a playful tone.
The SEARCHING FOR OZ coursework helps uplift and inspire you to live the best life possible and builds a community of individuals who desire to support and foster each other's gifts to reach your full potential!
Join us on the journey!
---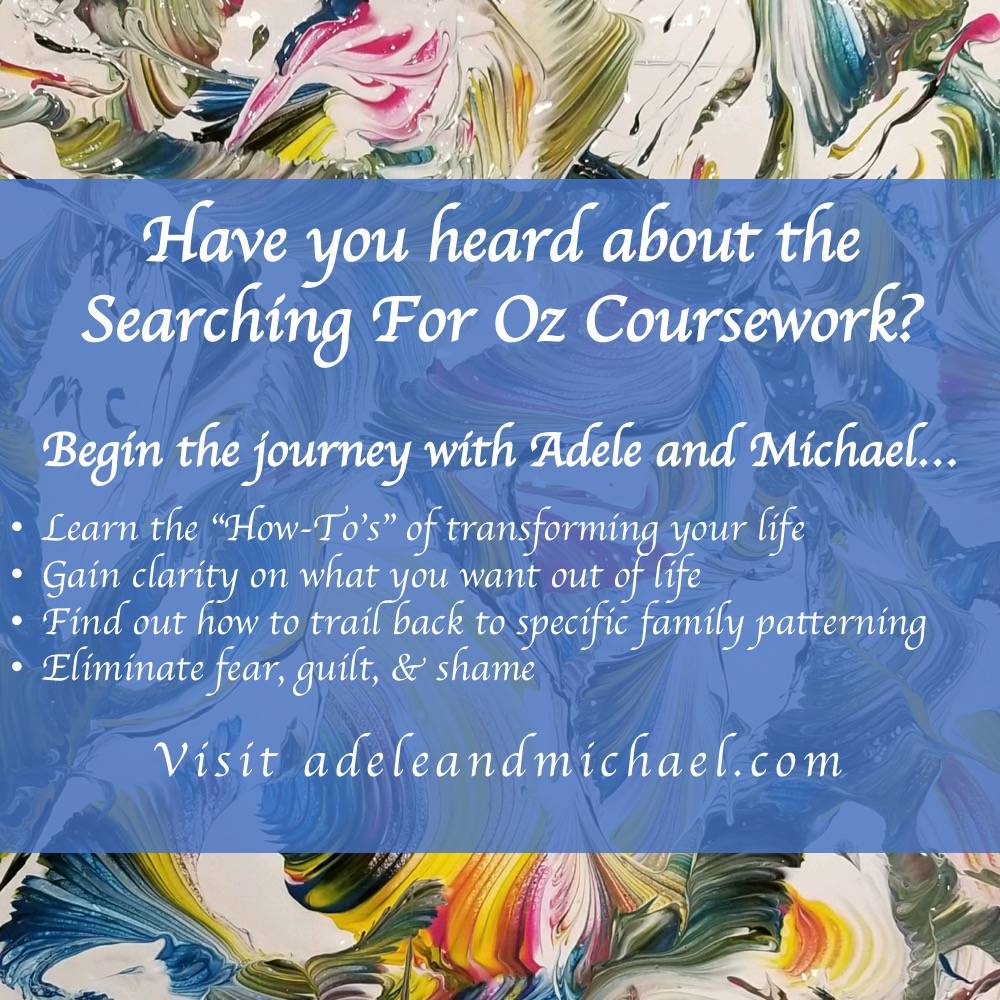 Begin Your Journey Now!
Register for our SEARCHING FOR OZ coursework OR call for a FREE one-on-one coaching consultation
Which ever you choose, you will be walked through the following:
The "How-To's" of transforming your life!
Learning how to get clarity on what you want out of life.
Showing you how to trail back to your specific family patterning, a place where you were conditioned to think like others.
Topics such as eliminating fear, guilt, shame, plus much more, will be explained.
Throughout the coursework or one-on-one coaching, you will explore living freely, loving who you want, and most importantly, loving yourself unconditionally, without judgment.
If you are ready to feel sensational, tap into your innate wisdom and experience the joy in life, REGISTER BELOW!
 2019 Wednesday Nights - 6:30 - 7:30pm (EST) - $1875
Jan. (9th, 16th, 23rd, 30th) 
Feb. (6th, 13th, 20th, 27th)
Mar. (6th, 13th, 20th, 27th)
April (3rd, 10th, 17th, 24th)
May (1st, 8th, 15th, 22nd)
June (5th, 12th, 19th, 26th)
2019 Sunday Afternoons - 3:00 - 4:00pm (EST) - $750
Mar. (3rd, 10th, 17th, 24th)
Apr. (7th, 14th, 28th)
May (5th, 19th, 26th)
Also check out our novel, SEARCHING FOR OZ !
A personal development book that is creative and informative. Based on a true story, this novel is a fictional account of a personal journey of self-love, and finding love, set on a creative platform, with The Wonderful Wizard of Oz theme, to convey healing information for anyone with a history of trauma or abuse.
SEARCHING FOR OZ – Physical – workbook will be available in September 2018!